Essex Energy Switch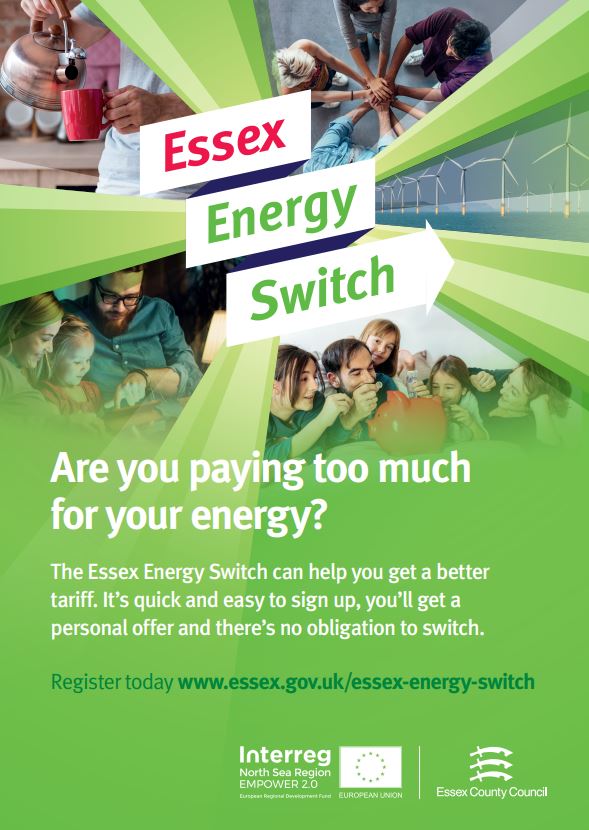 What is the Essex Energy Switch (EES)?
The EES is a county-wide collective energy switching scheme. It is designed to give Essex residents an easy way to switch to a fixed tariff for gas and electricity, helping them to save money over the course of a year. Residents register for the EES then different suppliers will bid at an auction to offer these residents the best personalised tariff on their energy bills.
The scheme is run in partnership with iChoosr, a national company, which manages the online registration, auction and offers. Essex County Council (ECC) is responsible for promoting the scheme to Essex residents each winter.
A collaborative approach to promoting the EES this year will help more Essex residents save money on their energy bills. It doesn't cost them anything to sign up, it's quick and easy, and they choose if they switch once they've received their personal offer from the supplier.
How does the EES work?
The more people that register for the EES, the more the scheme can help them save on their bills. This is because it's a group buying scheme: the more consumers that sign up, the better our negotiating power with suppliers at the auction. Suppliers will be given the opportunity to supply more households' energy through the ESS and they are therefore often able to offer lower fixed-rate tariffs.
Group buying for energy is often faster, easier and more effective for residents over comparing and negotiating tariffs with suppliers on their own. Residents can benefit from market leading tariffs which are not available either directly or via price comparison websites.
The process
1. Registration is quick and easy – it only takes 5 minutes with a recent gas or electricity bill for your household
2. Auction – energy suppliers bid against each other to offer the best deal
3. Personal offer – everyone who has signed up will receive a personal offer from the supplier, based on their household and energy usage
4. Residents decide if they want to switch to the new supplier – there is no obligation to switch. If they accept the offer, iChoosr handles the entire switch for them.
What are the benefits of the EES for residents?
The rising wholesale price of energy means many residents are now paying more for their energy than at any time in the last 10 years. This has resulted in some standard variable tariffs (SVT) being cheaper than some fixed tariffs. SVTs see suppliers vary the price of energy for their customers as the wholesale market changes. Whilst standard variable tariffs are generally thought to be more expensive, they have recently offered cheaper monthly rates at times than fixed tariffs due to the Ofgem SVT price cap keeping them at a fixed level.
The Ofgem price cap for SVTs is based on a typical dual fuel customer paying by direct debit, meaning you could actually pay more than the cap amount depending on your usage. The cap is a limit on the unit rate and standing charge that energy suppliers can charge for their standard variable tariffs. In August 2021, Ofgem announced this cap was rising by £139, on an average annual bill, from 1 October 2021. The price cap sets the maximum annual price a supplier can charge (£1,277 on an average bill). Customers may find their energy bills will rise by up to an additional £139 annually if they are on a standard variable tariff.
By taking part in the EES, residents will be offered a personalised fixed tariff. It will be personalised to their energy usage and the unit rate and standing charge will be fixed for a year. This means residents can be sure that their bills won't rise again for 12 months and their monthly rates will not be subject to fluctuations in the energy market. Whether you switch or not, you are likely to see your energy bills going up. A fixed tariff will offer peace of mind that your rates won't go up anymore for a year.
The EES offers 100% renewable electricity so it is also an opportunity for households to help reduce their carbon footprint.
Date of notice:
Saturday, 4 September 2021